Hobbywing 1/8th ESC
Ny og kraftig ESC fra Hobbywing til 1/8th offroad, kan klare motorer både med og uden sensor kabel. Regulatoren kan leveres i farverne blå og sort.
Prisen er 799.- pr. stk
Bestilling kan ske pr. telefon el mail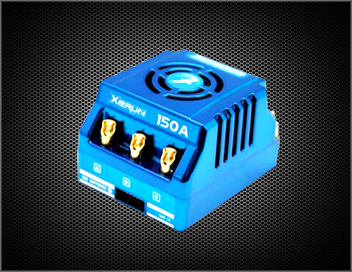 1 Specification
1.1 Output: Continuous 150A, burst 950A.
1.2 Input: 6-18 cells NiMH/NiCd or 2-6S LiPo.
(When using 2S lipo or 6 cells NiMH, an UBEC or seperate battery is strongly recommended to supply the receiver)
1.3 BEC: 5.75V/3A (Switch mode built-in BEC).
1.4 Resistance: 0.0002 Ohm.
1.5 Motor Supported: Sensorless and sensored brushless motors.
1.6 Suitable Motor: * Note #1
When working with 4 cells Lipo: KV<=3000
When working with 6 cells Lipo: KV<=2400
1.7 Suitable Car: 1/8 On-road/Buggy/Truggy/Monster competition.
1.8 Size: 58mm(L) * 46.5mm(W) * 35mm(H).
1.9 Weight: 105g (Without wires).
*Note #1: The above KV number is the value of a 4274 sized motor (Diameter=42mm, Length=74mm).


Tilbage til nyhedsoversigten